OpArt
is finished and on it's way to California (via Florida). The pattern was tons of fun to make and it was idea for an i-cord border. Since it is worked from the center out all of my live stitches were the outside edge. I just bound them off with the
icord
and managed to skip the bind off and the pick up stitches steps. I knit the blanket on US6 needles but did the i-cord on US8. It gave me a wonderfully stretchy border that allowed for the massive blocking.
Since I can't tell you about the super secret Christmas knitting, I'll share my new project. Granted it is so new that I haven't even cast on yet. I don't know if it was the m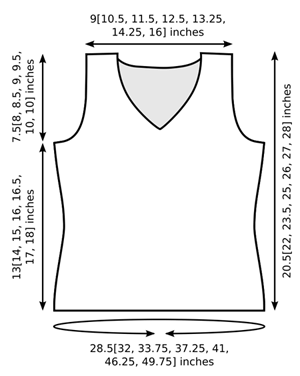 obiuses
(what is the plural of that word?
mobei
?) that gave me confidence or what, but I am taking on a project with sleeves. The pattern is
Francis Revisited
by Beth
Silverstein
. It is knit in the round top down, so there isn't much as far as seeming and probably as easy as you can get as far as including sleeves is concerned. My
gauge
swatch finished drying along with the blanket, and I've finished all the math (well I think I've finished it anyway). Some patterns come with a little drawing at the end of the item with all of its measurements. Here is an example
from the
Abrazo
pattern from the current
Knitty
.
These pictures are particularly useful to women like me who don't fit into any one particular size of women's apparel. For example (depending on the sizing) my shoulders might fit into a medium, my bust into a large, my waist into a small, and my hips into an
xlarge
. The little chart lets me check finished garment's measurements against my measurements. Francis didn't have one of these, so I decided to go ahead and make one.
I started with a lightly drawn rough sketch of what I thought the sweater was going to look like, and then I went though the pattern step by step and added the heavier straight lines and measurements for what was actually going to be happening. It doesn't look that pretty (in fact, it kind of reminds me of
Frankenstein's
monster) and it certainly isn't to scale or accurate as a drawing, but it has already been worth every moment I spent on it.
First, I realized that the instructions for my size would give me a pretty
consistent
2 inches of positive ease. Right up until the hips, then just fits with no ease. I knew I had to add in two more increase rows and because I went through the pattern I knew where they would fit easily to keep the gradual
flaring
after the waist. I also figured out how many rows should fit in the sections that say knit until X inches long. Finally, it has given me some forewarning that it may be a little sort under the arm pits and I'll have to check the fit when I join for
knitting
in the round there. It has kept me from playing with fiber, but this was so useful, that I may make one of these even if the pattern comes with a little drawing.