My first post in this new location and a knitting emergency!
The Backstory:
I just found out that a friend I worked at Disney with is pregnant and due in a couple months. I of course wanted to knit her a blanket and decided that black and white was definitely the way to go for her.
Well to be honest a full color work Nightmare Before Christmas blanket that looked something like this would be most appropriate, but I'm on a bit of a time crunch. I wanted a blanket ment for two colors and pretty gender neutral. I spent some time searching Ravelry and I decided instead on the
Curve of Pursuit Afghan
. I've bought the pattern, ordered the yarn, and done some practice pieces. I am ready to go as soon as the yarn shows up, and it should be here any day.
The Dilemma:
The new
Knitty
is out, and of course it is always an exciting and inspiring thing. This time however, it has stepped right in on my emergency baby blanket plans. Despite my decisiveness and organization about this project, I am now torn because of the new
OpArt
pattern. It calls for the same type of yarn that I ordered, but a different weight. Though a blanket is a blanket, and yarn weight shouldn't be that big of a deal. So I now have to decide between these two blankets.
Curve of Pursuit
Pros:
-I've praticed and planned for this one.
-All knit stitches
-Worked in small sections so my needle only has to hold one side.
Cons:
-Tons of ends to weave in
-Despite my practice I'm still getting little holes at the end of each square that I will have to make sure I close up with the ends that I weave in.
OpArt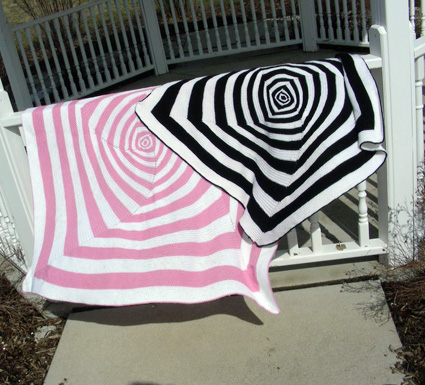 Pros:
-Fewer ends to weave in.
-Seems simpler than the other
-Knitting in the round to make a square just sounds fun.
Cons:
-Requires blocking. This isn't a big con, I just generally like to have baby stuff to come ready out of the dryer.
-Requires two long circular needles. I don't have them but I can make it work with what I have by either using two different brand needles or switching tips around.
So help me out. Should I go with the one I've practiced and planned for, or the one that has magically appeared as if I had asked for it?